| | |
| --- | --- |
| Item # 1 -- 262 Pawling Ave. Troy, NY 12180 GREAT INVESTMENT OPPORTUNITY!! LIVE IN ONE UNIT, WHILE COLLECTING INCOME FROM TWO!!! | |
Track Item | Email to a friend | Ask Auctioneer a question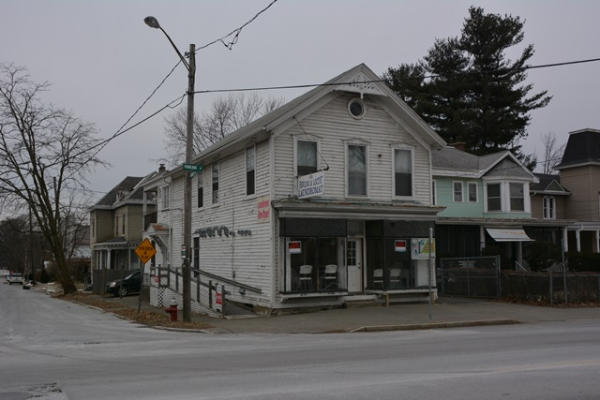 Click on image to view large version:

Reserve Not Met
High Bid:
96,000.00 USD - nighthawk
bidding history
Bidding has closed on this lot
Item Details:
262 Pawling Ave. Troy, NY 12180 GREAT INVESTMENT OPPORTUNITY!! LIVE IN ONE UNIT, WHILE COLLECTING INCOME FROM TWO!!!

SBL #: 112.41-1-12
Property Class: 482 – Det row bldg
Lot: 0.06 Acres
Lot Size: 30' x 60' +/-
Frontage: 30'
Year Built: 1900 +/-
School District: Enlarged City School District of Troy
Deed Book: 6195, Page 30
First Floor: Laundromat: $351.00 +- Monthly
1 Bedroom/1 Bathroom Apartment: $450.00
Second Floor: 3 Bedroom/1 Bathroom
Apartment: $1,100.00
Appliances: Refrigerators, Ranges and Hoods
Floors: Hardwood
Basement: Full, Stone and Block
Exterior: Wood
Heat: Gas
Water: City
Sewer: City
Annual Real Estate Taxes: $3,781.97 +/-
Annual School Taxes: $1,934.78 +/-
Total Annual Taxes: $5,716.75 +/-
Total Monthly Income: $1,901.00 +-

ALL BIDS ARE SUBJECT TO SELLER APPROVAL WITHIN 24-HOURS POST AUCTION CLOSING. THE SELLER RESERVES THE RIGHT TO ACCEPT THE HIGH BID EVEN IF THE RESERVE HAS NOT BEEN MET. IT IS YOUR RESPONSIBILITY TO CONTACT OUR OFFICE IF YOU DO NOT RECEIVE AN INVOICE.

Payments & Partial Terms: Payments & Partial Terms: Subject to Seller acceptance or rejection within approximately 24-hours post auction closing. Upon Bid Acceptance by Seller: $5,000 Down Payment plus 12% Buyer's Premium in Cash/Certified Check made payable to Collar City Auctions Realty & Mgmt, Inc. Escrow and paid in full via Official Bank Check or Cash on or before Thursday, March 2, 2017 at 4:00 PM Time Being of Essence. Closing shall take place on or about April 19, 2017. Sold "AS IS". Clear title is guaranteed by Seller at closing.
• Download Sample Purchase & Sale
• Download 262 Pawling Ave. Deed
• Download Agency Relationship
• Download Lead Base Paint Disclosure
• Download 262 Pawling Ave. Tax Bills
• Download 262 Pawling Ave Promo Flyer
• Download 262 Pawling Real Property Fact Sheet




262 Pawling Ave. Troy, NY 12180 GREAT INVESTMENT OPPORTUNITY!! LIVE IN ONE UNIT, WHILE COLLECTING INCOME FROM TWO!!!

SBL #: 112.41-1-12
Property Class: 482 – Det row bldg
Lot: 0.06 Acres
Lot Size: 30' x 60' +/-
Frontage: 30'
Year Built: 1900 +/-
School District: Enlarged City School District of Troy
Deed Book: 6195, Page 30
First Floor: Laundromat: $351.00 +- Monthly
1 Bedroom/1 Bathroom Apartment: $450.00
Second Floor: 3 Bedroom/1 Bathroom
Apartment: $1,100.00
Appliances: Refrigerators, Ranges and Hoods
Floors: Hardwood
Basement: Full, Stone and Block
Exterior: Wood
Heat: Gas
Water: City
Sewer: City
Annual Real Estate Taxes: $3,781.97 +/-
Annual School Taxes: $1,934.78 +/-
Total Annual Taxes: $5,716.75 +/-
Total Monthly Income: $1,901.00 +-



ALL BIDS ARE SUBJECT TO SELLER APPROVAL WITHIN 24-HOURS POST AUCTION CLOSING. THE SELLER RESERVES THE RIGHT TO ACCEPT THE HIGH BID EVEN IF THE RESERVE HAS NOT BEEN MET. IT IS YOUR RESPONSIBILITY TO CONTACT OUR OFFICE IF YOU DO NOT RECEIVE AN INVOICE.



Payments & Partial Terms: Payments & Partial Terms: Subject to Seller acceptance or rejection within approximately 24-hours post auction closing. Upon Bid Acceptance by Seller: $5,000 Down Payment plus 12% Buyer's Premium in Cash/Certified Check made payable to Collar City Auctions Realty & Mgmt, Inc. Escrow and paid in full via Official Bank Check or Cash on or before Thursday, March 2, 2017 at 4:00 PM Time Being of Essence. Closing shall take place on or about April 19, 2017. Sold "AS IS". Clear title is guaranteed by Seller at closing.

(Click on More Lot Info for Shipping and Additional Information)






673-677 PAWLING AVENUE, TROY, NY 12180. GREAT INVESTMENT OPPORTUNITY!! INCOME FROM LAUNDROMAT AND 3 RESIDENCES!!!

SBL #: 112.75-7-23 (1-Story Brick and Concrete Block Building – 675 Pawling Ave.)
Property Class: 481 – Att row bldg.
Lot: 0.13 +/- Acres – irregular
Lot Size: 54' x 101' +/-
Frontage: 54.3'
Year Built: 1940 +/-
School District: Enlarged City School Dist of Troy
Deed Book: 1743, Page 301
Full Market Value: $50,000
Annual Real Estate Taxes: $3,887.43
Annual School Taxes: $1,074.88
Total Annual Taxes: $4,962,31

SBL #: 112.75-7-22 (677 Pawling Ave.)
Property Class: 483 – Converted Res
Lot: 0.10 Acres - irregular
Lot Size: 34' x 99' +/-
Frontage: 33.5'
Year Built: 1940 +/-
School District: Enlarged City School Dist of Troy
Deed Book: 6195, Page 51
Full Market Value: $150,000
Annual Real Estate Taxes: $3,128.78 +/-
Annual School Taxes: $1,612.32 +/-
Total Annual Taxes: $4,741.10 +/-

1st Floor: Laundromat: $2,331.00+- Monthly
1-Bedroom Apartment: $450.00
2nd Floor: 3-Bedroom Apartment: $1,100.00
3rd Floor: 3-Bedroom Apartment: $1,100.00
Total Monthly Income: $4,981.00 +- Stainless Steel Appliances
Basement: Full
Heat: Gas & Oil Baseboard
Sewer & Water: Comm/pubic



ALL BIDS ARE SUBJECT TO SELLER APPROVAL WITHIN 24-HOURS POST AUCTION CLOSING. THE SELLER RESERVES THE RIGHT TO ACCEPT THE HIGH BID EVEN IF THE RESERVE HAS NOT BEEN MET. IT IS YOUR RESPONSIBILITY TO CONTACT OUR OFFICE IF YOU DO NOT RECEIVE AN INVOICE.



Payments & Partial Terms: Payments & Partial Terms: Subject to Seller acceptance or rejection within approximately 24-hours post auction closing. Upon Bid Acceptance by Seller: $5,000 Down Payment plus 12% Buyer's Premium in Cash/Certified Check made payable to Collar City Auctions Realty & Mgmt, Inc. Escrow and paid in full via Official Bank Check or Cash on or before Thursday, March 2, 2017 at 4:00 PM Time Being of Essence. Closing shall take place on or about April 19, 2017. Sold "AS IS". Clear title is guaranteed by Seller at closing.

(Click on More Lot Info for Shipping and Additional Information)