| | |
| --- | --- |
| Item # 1 -- 3-Bedroom Single Family Home, Carlisle, NY (Schoharie County) | |
Track Item | Email to a friend | Ask Auctioneer a question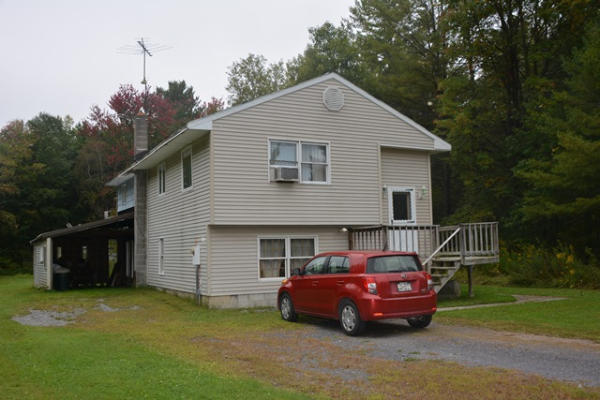 Click on image to view large version:

Reserve Not Met
High Bid:
32,000.00 USD - rosebuddy
bidding history
Bidding has closed on this lot
Item Details:
394 Gordon Road, Sloansville, NY 12160
Town of Carlisle, Schoharie County, New York
SBL: 26.-2-5
Property Class: 210 – 1 Family Res
Lot Size: 1 Acre +/-
Living Area: 1,585 sq. ft.
School District: Cobleskill-Richmondville
Total Assessment: $92,300
Full Market Value: $116,835
Total Taxes: $4,038.66 +/-
Deed Book: 508, Page: 152
Raised Ranch
Year Built: 1970s
Siding: Vinyl
Roof: Asphalt
Windows: Double Glazed Replacement
Garage: Oversized 1 car, detached
Bedrooms: 3
Bathrooms: 2
Foundation: Poured
Attic: Full
Heat: Oil, Warm Air Registers
Hot Water: Gas
Water: Private Well approx. 300' deep
Sewer: Private Septic, 1,000 Gallon Tank
Electric Service to Structure: 200 Amp
Includes: New refrigerator, LP Gas Stove, Hook-ups in place for dishwasher, Spring-fed pond in front yard


Inspection: Friday, September 29th, 10:00 AM - 12:00 PM (EST) ONLY.

ALL BIDS ARE SUBJECT TO SELLER APPROVAL WITHIN APPROXIMATELY 24-HOURS POST AUCTION CLOSING. THE SELLER RESERVES THE RIGHT TO ACCEPT THE HIGH BID EVEN IF THE RESERVE HAS NOT BEEN MET. IT IS YOUR RESPONSIBILITY TO CONTACT OUR OFFICE IF YOU DO NOT RECEIVE A TELEPHONE CALL OR EMAIL.

REAL ESTATE: Payments & Partial Terms: Real Estate Bids are Subject to Seller acceptance or rejection within approximately 24-hours post auction closing. Upon Bid Acceptance by Seller: $5,000.00 Down Payment plus 12% Buyer's Premium in Cash/Certified made payable to Collar City Auctions Realty & Mgmt., Inc. Escrow and paid via Official Bank Check or Cash on or before Friday, October 6, 2017 at 4:00 PM Time Being of Essence at 9423 Western Tpke, Delanson, NY 12053. Closing shall take place on or about Tuesday, November 7, 2017. Sold "AS IS" WITHOUT CONTINGENCIES OF ANY KIND. Clear title is guaranteed by Seller at closing.

YOU WILL RECEIVE A TELEPHONE CALL AND EMAIL CONFIRMATION WITHIN APPROXIMATELY 24-HOURS AFTER ACCEPTANCE OF BID BY THE SELLER. IT IS YOUR RESPONSIBILITY TO CONTACT OUR OFFICE IF YOU DO NOT RECEIVE NOTICE.

A Buyer's Premium will be assessed based on the following, which will be added to the high bid price. (This is in addition to your bid price)

12% Add-on to high bid price.

No Bid may be withdrawn for any reason once placed.

Conduct of Strictly Online Auction: We use dynamic ending times for all on-line auctions. On-line auction ending times vary and will be extended by two-minute intervals if bids are placed during the last minute of the scheduled auction ending time. Such extension of the ending time of the auction will continue, in two-minute intervals, as long as active bidding continues. Once there are 120 seconds without any bidding, no further extensions will be given and the auction will end. ALL BIDS DO NOT CLOSE OUT AT ONE TIME, BUT IN GROUPS BEGINNING AT THE SCHEDULED CLOSING TIME LISTED FOR EACH LOT INDIVIDUALLY. This does not apply to Live Simulcast Auctions. See Terms for additional terms and conditions of sale. We reserve the right to offer lots in auction by both bulk/entirety bid or individual lots and method that generates highest sales prices is method of sale that will be utilized.

GENERAL QUESTIONS: email: service@collarcityauctions.com

Thank you for bidding. We appreciate your business.

Have merchandise to Sell? Email us today!
• Download Sample Purchase & Sale Agreement
• Download Agency Disclosure
• Download Lead Base Paint Disclosure
• Download Lead Base Paint Disclosure Booklet
• Download Property Fact Sheet
• Download RPS Data Sheet
• Download Deed
• Download Property Tax
• Download School Tax
• Download Tax Map
• Download Tax Map Large




394 Gordon Road, Sloansville, NY 12160
Town of Carlisle, Schoharie County, New York
SBL: 26.-2-5
Property Class: 210 – 1 Family Res
Lot Size: 1 Acre +/-
Living Area: 1,585 sq. ft.
School District: Cobleskill-Richmondville
Total Assessment: $92,300
Full Market Value: $116,835
Total Taxes: $4,038.66 +/-
Deed Book: 508, Page: 152
Raised Ranch
Year Built: 1970s
Siding: Vinyl
Roof: Asphalt
Windows: Double Glazed Replacement
Garage: Oversized 1 car, detached
Bedrooms: 3
Bathrooms: 2
Foundation: Poured
Attic: Full
Heat: Oil, Warm Air Registers
Hot Water: Gas
Water: Private Well approx. 300' deep
Sewer: Private Septic, 1,000 Gallon Tank
Electric Service to Structure: 200 Amp
Includes: New refrigerator, LP Gas Stove, Hook-ups in place for dishwasher, Spring-fed pond in front yard

(Click on More Lot Info for Shipping and Additional Information)