| | |
| --- | --- |
| Item # 1 -- 2011 Ford Crown Victoria. (4) Door Sedan, V-8, Automatic, Cold AC, Automatic Transmission, 129,517+- Miles. Runs and Drives. VIN: 2FABP7BV2BX169985. No Known Defects. Open Title. | |
Track Item | Email to a friend | Ask Auctioneer a question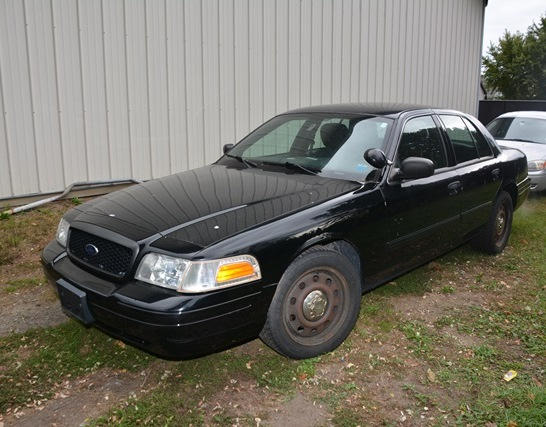 Click on image to view large version:

High Bid:
2,150.00 USD - bobby
bidding history
Bidding has closed on this lot
Item Details:
2011 Ford Crown Victoria. (4) Door Sedan, V-8, Automatic, Cold AC, Automatic Transmission, 129,517+- Miles. Runs and Drives. VIN: 2FABP7BV2BX169985. No Known Defects. Open Title.


Inspection: Friday, October 20, 2017 From 9:00 AM to 11:00 AM ONLY

Conduct of Strictly Online Auction: We use dynamic ending times for all on-line auctions. On-line auction ending times vary and will be extended by two-minute intervals if bids are placed during the last minute of the scheduled auction ending time. Such extension of the ending time of the auction will continue, in two-minute intervals, as long as active bidding continues. Once there are 120 seconds without any bidding, no further extensions will be given and the auction will end. ALL BIDS DO NOT CLOSE OUT AT ONE TIME, BUT IN GROUPS BEGINNING AT THE SCHEDULED CLOSING TIME LISTED FOR EACH LOT INDIVIDUALLY. This does not apply to Live Simulcast Auctions. See Terms for additional terms and conditions of sale. We reserve the right to offer lots in auction by both bulk/entirety bid or individual lots and method that generates highest sales prices is method of sale that will be utilized.

LOADING ASSISTANCE WILL NOT BE PROVIDED BY THE SELLER or Auction Company. PLEASE BE SURE TO BRING ADDITIONAL ADEQUATE HELP TO LOAD PURCHASES AS WELL AS TOOLS IF NEEDED TO DISASSEMBLE OR MAKE NECESSARY REPAIRS TO LOAD AND/OR REMOVE. THE SELLER AND AUCTION COMPANY ARE UNABLE TO PROVIDE TOOLS. NOTE: ALL VEHICLES MAY NEED A JUMP START.

SHIPPING IS NOT AVAILABLE FOR THIS AUCTION. 

A Buyer's Premium Scale PER ITEM will be assessed based on the following, which will be added to the high bid price. (This is in addition to your bid price). 
$0 - $50,000 = 18% BP
$50,001-$75,000 = 17% BP
$75,001-$99,999 = 16% BP
$100,000 and Up = 15% BP
IN ADDITION TO THE BUYER'S PREMIUM, A FOUR PERCENT (4%) ADMINISTRATIVE FEE IS ADDED TO ALL PURCHASES.
WE ARE HAPPY TO WAIVE THE FOUR PERCENT (4%) ADMINISTRATIVE FEE FOR ALL CASH PAYMENTS. WE DO NOT ACCEPT ANY FORM OF CHECK PAYMENTS.



Applicable sales tax will be charged on all items. All sales are final. No refunds, credits or exchanges will be honored or issued. Item sold "AS-IS" and "WHERE-IS" with no warranty express or implied verbal or written. Solely Bidder as Purchaser responsibility for inspecting items before placing bids. All descriptions are provided for informational purposes only and are believed to be accurate, but in no manner are to be construed as guaranteed as completely accurate.  OPERATIONAL CONDITION OF ANY ITEM IS UNKNOWN OR GUARANTEED AND IT IS RECOMMENDED THAT YOU ATTEND THE INSPECTION TO THOROUGHLY INSPECT ALL ITEMS PRIOR TO PLACING ANY BIDS. AS STATED HEREIN. BIDS ARE BINDING ONCE PLACED AND MAY NOT BE WITHDRAWN, MODIFIED OR NEGOTIATED DURING OR POST AUCTION. "DON'T BID UNLESS YOU PLAN TO PAY." SALES ARE NOT SUBJECT TO POST AUCTION INSPECTION OR TEST DRIVE.

No Bid may be withdrawn for any reason once placed. 

Payment Terms:  Payment will be due within (3) days after auction closes. Payment can be made through your member area if paying via credit or debit card (NO AMEX) and payments via CASH ONLY may be made at 9423 Western Turnpike, Delanson, NY 12053. CASH ONLY PAYMENTS ACCEPTED AT THE AUCTION SITE DURING REMOVAL PERIOD ONLY. Deviation from these Payment Terms may cause your account to be suspended, and the item may be awarded to the backup-bidder, or re-listed. Payment questions? Please Call: 518-895-8150 x 103

Removal Terms Removal: Thursday, October 26, 2017 From 9:00 AM to 10:30 AM ONLY. Items Located at: Rotterdam Police Department, 101 Princetown Rd, Schenectady, NY 12306

If you are going to have trouble picking up your purchased items up by the deadline, call our office immediately!

TAX EXEMPT PURCHASER'S MUST complete a New York State ST-120 or ST-125 Form Available on the online auction and return to our office via fax: 518-895-8152 or email: service@collarcityauctions.com PRIOR TO THE AUCTION ENDING or be subject to applicable sales taxes. We will not make any exceptions. Send the form as required or pay the sales tax. Please do not send in AFTER AUCTION CLOSES and expect us to revise all of our completed records because you did not read this when registering, during bidding, in the lot description and now. However, we will be happy to revise your invoice after the deadline for a $75.00 fee and will make revision once the revision fee has been received in full.

Auction Company and Seller are NOT responsible for providing tools, labor or heavy equipment to assist in removal or loading. Items left on premises after removal deadline will revert back to possession of the Auction Company or Seller without refund.

GENERAL QUESTIONS: email service@collarcityauctions.com

Thank you for bidding. We appreciate your business.

Have merchandise to Sell? Email us today!



2011 Ford Crown Victoria. (4) Door Sedan, V-8, Automatic, Cold AC, Automatic Transmission, 129,517+- Miles. Runs and Drives. VIN: 2FABP7BV2BX169985. No Known Defects. Open Title.

(Click on More Lot Info for Shipping and Additional Information)






2006 Ford Taurus, (4) Door Sedan, V-6 Engine, Auto Transmission, 75,268+- Miles. No Know Defects. Runs and Drive. VIN: 1FAHP53U36A124086. Open Title

(Click on More Lot Info for Shipping and Additional Information)